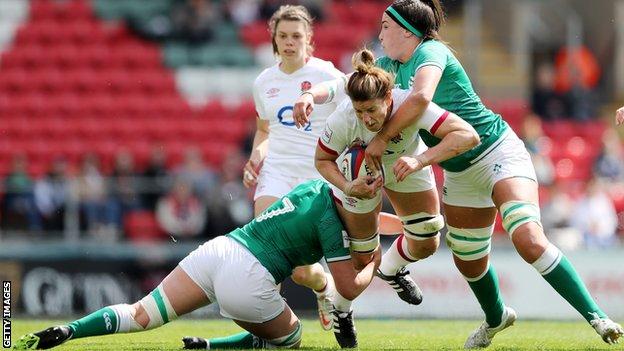 Meeting point:
Jean Dauger Stadium, Bayonne
Date:
Saturday, April 30th
Kick-off:
14:15 BST
Coverage:
Watch BBC Two and live text comments on the BBC Sport website
England captain Sarah Hunter misses Saturday's Grand Slam final against France with a rib injury.
Veteran number eight has been forced to withdraw from the squad after sustaining the injury in the 69-0 win over Ireland.
Hunter, 36, will still travel to France and join the team to support off-field preparations.
Both sides have won their first four matches of the tournament, with the Grand Slam at stake in Bayonne.
Hunter has won 134 internationals for her country, and her omission from the squad will be "massive," according to teammates Ellie Kildune and Marlie Packer.
Sarah Beckett and Sadia Kabeya are among the players who could step in, and the versatile back Kildunne says the defending champions will be "prepared" in France.
"Not only does she bring really good rugby skills, but she's also a really good leader," Kildune said at Tuesday's press conference.
"But we will still be prepared and I do not think it will affect us too much because we have people who can fill.
"We've had Zoe [Aldcroft] doing some of the captain roles and Poppy [Cleall] also, so it's not going to change the way we train or play, and that's more of a reason to come home with the Grand Slam. "
These comments were repeated by the back row in front of Packer, who says Hunter's presence in France will be a "positive" for the squad.
"She brings so much on the pitch, but also off it," Packer told BBC Sport.
"She encourages the team and luckily for us she's going to fly out, which is really positive. Just having her voice and the way she handles herself really resonates with the rest of the squad.
"I'm obviously sorry for her, but it's one of those things and it can happen to any of us."
'We go to big events'
England chase a 23rd Test victory in a row with victory in France, after winning number 22 and setting a new record against Ireland.
They were backed by a record 15,836 fans on Welford Road – the highest number of supporters at an English home game for women with a ticket – but that will be a different story at the Stade Jean Dauger.
France are often backed by their own loud crowds, and Kildune says players need to adapt different communication strategies as they cross the canal.
"Playing against France in front of their audience is something I have only done once," the 22-year-old said.
"We have played them behind closed doors [during Covid-19 restrictions] but that is something else [with the crowd].
"When I first played with the audience, we had to use sign language because you could not hear each other speak. Hopefully it will not be a distraction and it is something that nourishes us.
"France do not stop working. They have a large crowd with many tall girls and good ball leaders with speed in their backs.
"It's a step up from the other games we've played and we have to make sure we're clinical because we do not get many opportunities to break them down."