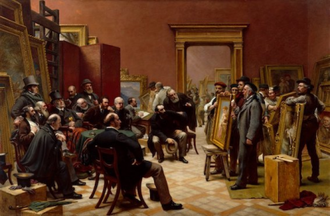 Source: Christian Art
The Gospel of June 20, 2022
Matthew 7: 1-5
Jesus said to his disciples, 'Do not judge, and you will not be judged; because the judgments you give are the judgments you will receive, and the amount you measure out is the amount you will be given. Why do you see the splinter in your brother's eye and never notice the plank in your own? How dare you say to your brother, "Let me take the splinter out of your eye" when there is always a plank in your own? Hypocrite! First take the plank out of your own eye, and then you will see clearly enough to take the splinter out of your brother's eye. '
Reflection on the painting
Our painting by Charles West Cope depicts the Council of the Royal Academy selecting images for their 1875 summer exhibition. Works of art are presented to them and they judge. Every year since 1769, the Royal Academy has held an open-air art exhibition, called the 'Exhibition' in earlier days, but now known as the Summer Exhibition. The works in the exhibition are selected and arranged by Royal Academicians, who also add their own works to the exhibition, creating an eclectic mix of work by established artists along with new talent and first-time exhibitors. Today, about 15,000 works are submitted each year. About 95% of the works of art are rejected: they are judged and not considered good enough to be shown.
The 'judgment' Jesus mentions in today's reading is much broader. He acknowledges that we live in a very judgmental culture. If we are honest with ourselves, we must admit that we are all guilty of it. We quickly judge politicians, our friends, football players … We tend to condemn and judge others. As Jesus says, we can be overly concerned about the splinter in someone else's eye while being arrogantly unaware of the plank in our own.
When we have a piece of dust in our eye, our eyes swell up and water diminishes our vision for a few minutes. In the same way, our vision is diminished when we focus on the shortcomings of others. Jesus asks us not to let other people's shortcomings be like dust in our eyes.
LINKS
Christian art: www.christian.art
Photo of the day: https://christian.art/daily-gospel-reading/matthew-7-1-5-2022/