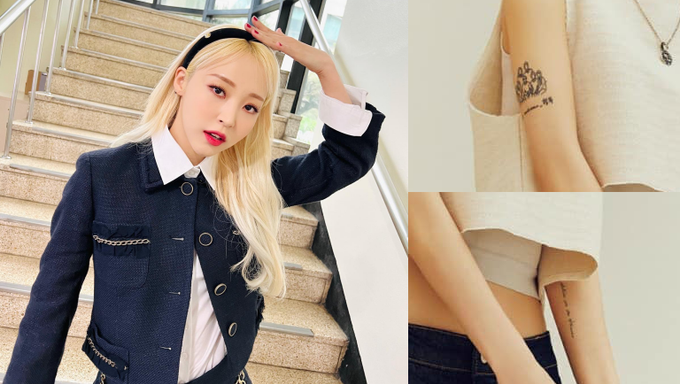 Welcome to thirteenth article in Kpopmap's bi-weekly series "Meaning of tattoo"!
Many Korean celebrities have tattoos and fans are always curious about what they mean or the story behind why they got them. This series will explore the meaning behind some of your favorite celebrity tattoos.
Read the previous articles from our "Tattoo Meaning" series here!
This week we will be covering MAMAMOO MoonByul's sentimental arm tattoos.
MoonByul is known for her refreshing vibes, positive energy, girl-crush persona and overwhelming talent. She has a few tattoos that many may also be curious about.
First, she has a family portrait outline on her upper arm with the words 'cor meum_행복' underneath. This means 'my heart's happiness'.
She also has a phrase written in cursive across her forearm that says "N'oublie pas de t'amier," which is French for "Don't forget to love yourself." On the other arm, she also has a tattoo that says 'wisdom', which speaks to her desire to become wise.
Her third arm tattoo is a rectangle that looks like a frame or a television and symbolizes the living world. There is a moon above it, representing her thoughts, and the contents of the frame include a whale in the water. The whale represents her love for her family, wealth and loyalty. The tattoo is meant to guide her thoughts through hardships.
Just moonbyul and her tattoos show 🔥 pic.twitter.com/bsaTHDJnQf

— 🌛tㅇ🍯 (@tiwoogki) 12 July 2022
open my bird app and my tl is full of moonbyul new tattoo
yes moonbyul new tattoo

and i love the meaning of her tattoo pic.twitter.com/3hD7nRV9dt

— wheeintastic (@cuteywheein) 17 July 2020
MoonByul has several tattoos that we will cover later in the series.
What do you think of her tattoos? Tell us in the comments.
Are there other Korean celebrities (idols, actors, etc.) whose tattoos you're curious about? If you leave their name in the comments below, we'll consider featuring them in this series!
Check out the other K-Pop idols in this series who have tattoos in this one assembly list:
Also, be sure to read our latest "Tattoo Meaning" articles here: