Satisfaction drops 22 points in JD Power Airline Survey
As air travel rises again, there seems to be customer dissatisfaction as well. According to the JD Power 2022 North America Airline Satisfaction Study, published Wednesday, the overall average score for airline passenger satisfaction fell 22 points from last year's score of 820 out of a scale of 1,000.
Still, this score of 798 is the second-highest average score in the survey in the last five years.
"The reasons why satisfaction increased last year were for all the wrong reasons," JD Power's travel intelligence chief Michael Taylor told BTN, noting fewer crowds at airports in recent years and half as many people on planes – giving passengers more space and enables flight. companions to provide more individual attention. "This year, [the score] is down for the right reasons. "
These reasons include rising prices, more crowded planes and airports and relatively fewer planes flying because "leisure demand has increased faster than anyone had expected," Taylor said. "When passenger volume increases, it's harder to be aware of [individual] passengers. "
This year's report included scores based on cabin class: first / business, premium economy and economy / basic economy. Overall score is based on responses from 7,004 passengers who flew with a major North American airline no more than one month before completing the survey, which was conducted from March 2021 to March 2022. The first / business respondents counted 1,100, with 1,500 for premium economy and 4,400 for basic economics, according to Taylor.
The eight factors considered were flights, baggage, boarding, check-in, costs and fees, flight crew, in-flight services and reservations.
[Report continues below chart.]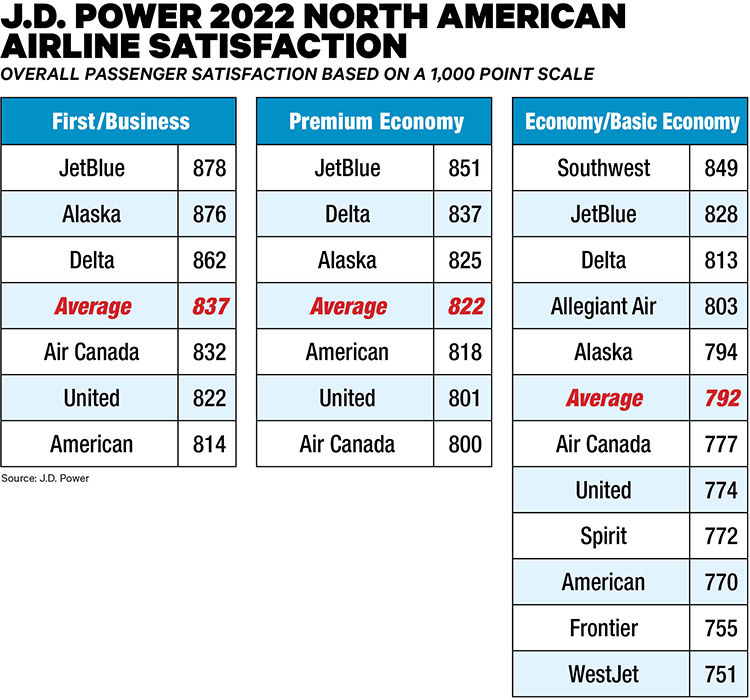 With average prices rising by around 20 percent to March 2022 compared to the previous survey, overall satisfaction with costs and fees in the premium economy segment fell by 66 points, in the economy / basic economy segment by 33 points and in the first / business segment with 21 points. points according to JD Power.
Food and beverage satisfaction was another sore point for many travelers, where the suspension of alcohol service in premium classes contributed to a 38 point drop in the category score for the premium economy segment and a 12 point drop in the first / business segment. On the other hand, food and beverage satisfaction increased by seven points in the economy / basic economy segment.
JetBlue Airways ranked highest for both the first / business and premium economy segments, while it came in second place for economy / basic economy. Southwest Airlines took the top spot for economy / basic economy. Delta Air Lines came second for premium economy and third for both first / business and economy / basic economy. Alaska Airlines rounded out the top three slots for the three segments in second place for first / business and third for premium economy.
RELATED: Delta climbs to the top of the annual JD Power Airline survey