DIRECTING a 'most beloved musical' is not necessarily the simplest production to make – primarily because the majority of your audience will have seen it before and will demand more of the same.
Director Kevin Middleton did not step too many toes in his rendition of 'Little Shop of Horrors' at Birmingham's Crescent Theater last night, but managed to add his own footprint by bringing a semblance of realism to the silly.
With his subtle references to misogyny and anti-Semitism, Middleton draws our sympathy for Mushnik, the nice old Jewish flower shop owner, and for his young shop assistant Audrey, who allows himself to be a punching bag for his dentist girlfriend Orin's sick pleasure.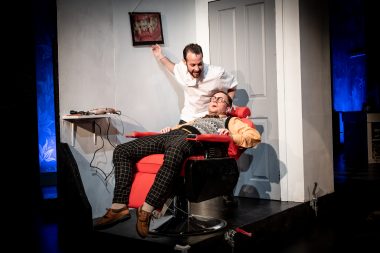 It's a clever bit of scripting that makes the most disgusting character not the person eating plant Audrey II, but Orin to the dentist.
Let's face it, dentists are already getting a bad press – a seat in their chair is the least preferred outing for young and old.
So in 'Little Shop', Orin does for dentists what Sweeny Todd does for hairdressers – three cheers for the plant when he swallows him. Oh damn, it's a spoiler!
Martin Sadd makes a credible and sympathetic Mr. Mushnik – that is, once he appears behind a very awkward opening state of a large frame on his desk, which left me in search of where the hazy voice came from.
Audrey is played with a little sweetness by Helena Stanway and complemented by Daniel Parker as her love hit colleague Seymour. They gather exquisitely in words, action and song.
Kimberley Maynard, Hannah Lyons and Becky Johnson – Crystal, Chiffon and Ronnette make up the Skid Row Choir respectively. From the moment they literally jump through the opening curtain, they sparkle. While others struggled to kickstart their roles on the opening night, this dynamic trio owned the stage from the start. Maynard has the added bonus of golden almonds.
The great backdrop that everyone is waiting in excitement to see grow from a pot to a monster is Audrey II, the abominable plant from outer space. The Crescent version is a clever design and construction by Jenny Thurston and Marlyn Romer – their Audrey II is a vast, vibrant, breathable colossus. Thurston also acts as a puppet master on stage. Mark Shaun Walsh voices the carnivorous botanical freak.
Keith Harris adds another notch to his top-boy set designs this season, Colin Lang adds some rock-moving choreography and Chris Arnold waves a baton over a talented band.
The nerves of the first night will no doubt be replaced by "growing" confidence – there is a lot to enjoy here for both "Little Shop" lovers and beginners. Worth going into town for.
Little Shop of Horrors runs until Saturday, May 7 at Crescent – click here for times, tickets and more.
****
Review of Euan Rose
Euan Rose reviews