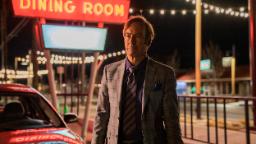 "Saul" has masterfully woven different story lines together and has gone along parallel tracks that gradually began to move toward intersecting before the characters Walter White and Jesse Pinkman came into the picture. The news that these actors will repeat their roles before the season ends only raises the expectation that the show will provide a sense of ending that was not evident when Jimmy McGill's long, strange journey to become Saul Goodman began.
Of course, the show had to overcome its own obstacles, including the heart attack that star Bob Odenkirk suffered during his last production flight.
Luckily, the actor got a full recovery as Jimmy / Saul continues to migrate into his new persona, leaving the basic question of why Kim (Rhea Seehorn) no longer seemed to be a part of his life as we first met him in "Breaking Bad."
It's just one of the big wrinkles left to relax as Mike (Jonathan Banks) becomes more entangled in the world of drug dealer Gus Frings (Giancarlo Espositos), while Nacho (Michael Mando) is caught between the silent in-war factions and the mercury-like Lalo (Tony Dalton).
Throughout its course, "Saul" has exhibited a remarkable ability to conjure up danger around characters that we know still existed later, an art that is evident in these early episodes. The initial teasing also provides several clues about Saul's ultimate fate, while still providing plenty of clue as to how he reached that stage.
"Better Call Saul" began as something that felt like a lark, a way to extend the life of "Breaking Bad" for a network, Albuquerque tourism and the most committed fans who weren't quite ready to let go of it. As the series draws to a close, series creators Vince Gilligan and Peter Gould have established their credentials not only as a worthy sequel, but a fantastic series in their own right.
Can they hold the landing firmly? It's the last piece of this delicately constructed nest doll left to unpack.
"Better Call Saul" begins its sixth and final season April 18 at. 21.00 ET at AMC.