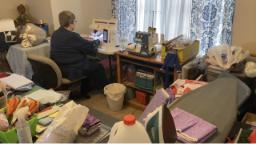 Originally published April 22, 2022
ROCHESTER, Minn. (WCCO) – Brad Burt has been a nurse for almost a decade, now at the Mayo Clinic and working with children. But that was while he was out for lunch recently when he really needed to put the basic first aid training to the test.
READ MORE: The Minnesota Toddler is starting its own homemade lip gloss business
He was about to leave when someone called for a nurse or doctor. An infant was strangled.
His instincts struck, he performed the Heimlich maneuver, and he saved her life.
READ MORE: Man killed in Uptown shooting late Saturday night
"I've never had to use those skills before," Burt said. "I've always trained for it, but it never came up that I actually had to use it. So I was a little nervous when it happened, but when I figured out what I needed to do, my training just took over. "
Burt said many people in the restaurant tumbled and did not know what to do, which serves as a reminder, he said, about why everyone should take the time to learn first aid and become CPR certified.
"The area here is very fortunate to have a lot of healthcare professionals, but suffocation and the need for CPR can happen anywhere," he said. "It can happen at home, in the car, out in the community, so it's very important for restaurant workers, families to learn these skills if they are ever to use them."
MORE NEWS: After more than 100 years, St. Paul Woman finally tombstone to mark her grave
There is CPR training in person and online from the American Red Cross in the twin cities and across the state.