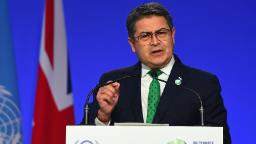 CNN
–

Honduras' Supreme Court has approved the extradition of former President Juan Orlando Hernández to the United States, where he will be charged with drug smuggling and firearms.
The decision of the country's Supreme Court to dismiss Hernández's appeal ratified a ruling by a Honduran judge on March 16.
The Honduran Supreme Court said in a statement that it voted unanimously for extradition on the first charge "concerning the importation of a controlled substance into the United States." A majority voted to extradite him on two charges related to firearm possession.
Hernández left office in January after eight years as president.
The former leader was arrested at his home on Feb. 15 at the request of the U.S. government. About a month earlier, federal prosecutors claimed that Hernández was helping an alleged drug smuggler deliver thousands of kilos of cocaine to the United States in exchange for large-scale bribes. His administration rejected the claim.
Hernández's brother, Tony Hernández, is currently serving a life sentence in a US federal prison for drug trafficking.