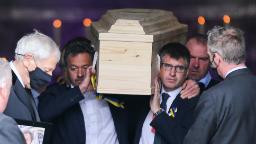 The Journalists' Protection Committee has a new president, Jodie Ginsberg, who joins the organization after at least seven journalists are known to have been killed, covering the war in Ukraine.
More worryingly, it seems that many of these journalists have been deliberately targeted.
"Often, having the word 'pressure' on your back or front was seen as a form of protection," Ginsberg said. "Now there's a concern that it's making you an actual target."
And the dangers extend far beyond Ukraine. Ginsberg said as many as seven working journalists are suspected of being killed this year in Mexico, a democracy that is not at war.
"It's unthinkable," Ginsberg said. "Journalists in [a] local context that reports on local issues such as corruption being killed for their work. "
Ginsberg's priorities as the group's future president include raising awareness of the threats facing journalists and emphasizing that they are happening in our own backyards.
"They do not all happen in authoritarian regimes," Ginsberg said. "They happen right here in the United States, in Britain, in Europe."
A troubling example: Last week, Los Angeles County Sheriff Alex Villanueva was under control for signaling that an LA Times reporter could be the subject of a criminal investigation into a series of stories about the department. The department has since withdrawn these comments.
"We should not be attacked, we should not be imprisoned for holding those in power accountable by doing our job," Ginsberg said.