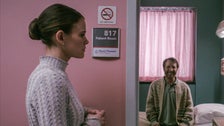 Moviegoers chose the horror film over the romantic comedy starts in October. Paramount's "Smile" topped the North American charts with $22 million in box office sales, according to studio estimates Sunday, leaving Billy Eichner's rom-com "Bros" in the dust.
Universal's "Bros" launched with an estimated $4.8 million to take fourth place behind "Don't Worry Darling" ($7.3 million) and "The Woman King" ($7 million). But opening weekends likely aren't the last word on either "Bros" or "Smil." Horror movie audiences are generally front-loaded and drop off precipitously after the first weekend, while something like "Bros," which received good reviews and an A CinemaScore indicating strong word-of-mouth potential, is a film that could continue to to find an audience through the autumn.
"Bros" is significant for being the first gay rom-com to receive a wide theatrical release by a major studio, as well as the first studio film starring and co-written by an openly gay man. Since premiering at the Toronto International Film Festival last month, the film has received rave reviews from critics and has also been the target of "review bombs" on IMDB. The site last week removed hundreds of one-star reviews for "Bros" that were logged before the movie was released.