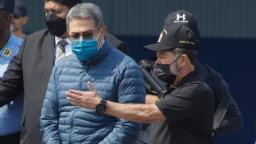 CNN
–

Juan Orlando Hernández, the former president of Honduras, was extradited to the United States on Thursday, where he will be charged with federal drug trafficking and possession of a firearm.
The U.S. Department of Justice also dropped an indictment alleging that Hernández was involved in a conspiracy to protect and profit from smugglers who moved cocaine from Central and South America to the United States.
The indictment in the U.S. District Court in the Southern District of New York accuses Hernández of conspiracy to import cocaine, possession of machine guns and destructive devices, and conspiracy to possess machine guns and destructive devices.
"As charged in the indictment, Hernández abused his position as president of Honduras from 2014 to 2022 to run the country as a drug," U.S. Attorney General Merrick Garland said Thursday at a news conference announcing the charges.
The Honduran government said Hernández, who denied allegations against him, was flown to New York.
He was taken from a special forces prison to an air base in Tegucigalpa, the capital, to fly. The handcuffed Hernández, wearing a blue jacket and jeans, was escorted by more than a dozen police officers, as could be seen on local television.
Hernández was placed in a U.S. Drug Enforcement Administration plane taking off from Toncontin International Airport around 4.20pm local time, Honduran authorities said.
Hernández's wife, Ana Garcia, posted a video of the former president on her Twitter account.
"The truth is a liberating force when it is revealed, it is my prayer, my family and thousands of Honduran families, so the truth is revealed and triumphed in my case. I am innocent, I have been, and I am being treated unfairly by the process, " he said.
"You know that I worked tirelessly to restore peace in Honduras. We did our utmost for our nation, and it is unfortunate that those who made Honduras one of the most violent countries on Earth, the villains, now want to be heroes, "Hernández said in the video, whose shooting date is unknown.
Honduran's Supreme Court last month approved the extradition. Hernández left office in January after eight years as president.
The former leader was arrested at his home on Feb. 15 at the request of the U.S. government. About a month earlier, federal prosecutors claimed that Hernández was helping an alleged drug smuggler deliver thousands of kilos of cocaine to the United States in exchange for large-scale bribes. His administration rejected the claim.
The extradition to the United States by former Honduran National Police Chief Juan Carlos Bonilla Valladare was also approved by the Honduran Supreme Court on Thursday, according to a press release from the Honduran judiciary.
Valladare is also wanted by the U.S. District Court in the Southern District of New York for conspiring to import, manufacture and distribute a controlled substance to the United States and for using or carrying firearms to import drugs, among other charges. Valladare has been detained since March 10, while waiting to be sent to the United States, according to the press release.
Hernández's brother, Tony Hernández, is currently serving a life sentence in a US federal prison for drug trafficking.
According to court documents in that case, U.S. authorities believe Hernández was a conspirator in the operation, using drug money to help fund his presidential campaigns. Hernández has repeatedly denied these allegations.
According to the indictment, Hernández collaborated with some of the most violent drug trafficking groups and received millions of dollars from a network that led cocaine through Honduras and into the United States. He used the money, it is stated in the indictment, to enrich himself, finance his political rise and subsequently remain in power.
In return, Hernández provided human trafficking organizations with law enforcement information that helped protect the organization's leaders from criminal investigations, protected leaders from extradition to the United States, and allowed them to commit violence with virtually no consequences, U.S. authorities say.
Garland said the Justice Department's years-long investigation into drug trafficking organizations has led to "the conviction of numerous Honduran drug smugglers who were responsible for importing more than 500,000 kilograms of cocaine into the United States and dozens of foreign murders."
"If you think you can hide behind the power of your position, you are mistaken," DEA Administrator Anne Milgram said during the news conference.