The Dow Jones Industrial Average could not outrun the bear.
The blue-chip gauge fell 329.60 points, or 1.1%, to close at 29,260.81 on Monday. That left the Dow DJIA,
-1.11%
20.5% below the January 4 record of 36,799.65. A pullback of 20% or more is generally considered to mark a bear market.
The Dow last fell in a bear market in early 2020, when the COVID-19 pandemic nearly shut down the global economy and unleashed financial chaos. The Dow fell 37.1% from its February 12, 2020 peak to its bear market low on March 23, 2020. It exited the bear market – ending 20% ​​above its bear market low – on March 26, 2020.
According to Dow Jones Market Data, the average Dow bear market sees a peak-to-trough decline of 35.5% and a median decline of 35.9%.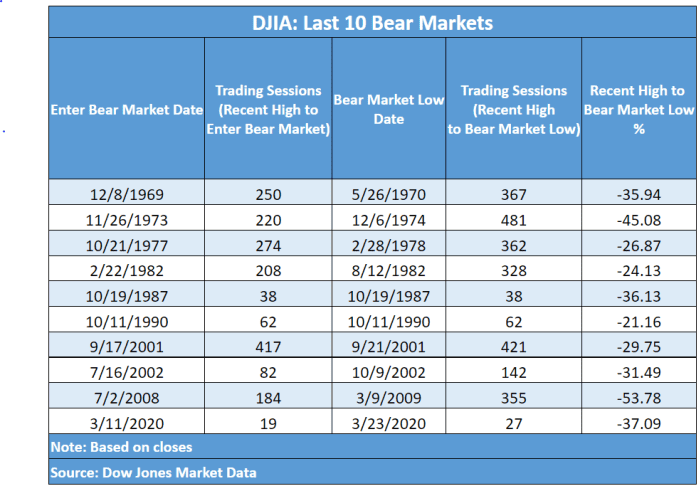 Monday marked the 182nd trading day since the Dow's Jan. 4 peak. On average, former bear markets have taken 133 trading days to fall from their highs to enter bear status, or a median of 114 trading days, according to Dow Jones Market Data. To reach the low of the bear market, it takes an average of 272 trading days from the recent high, or a median of 197 trading days.
S&P 500 SPX,
-1.03%
confirmed its entry into a bear market in June, falling more than 20% from its January 3 record. The major-cap benchmark fell 38.19 points, or 1%, to close at 3,655.04 on Monday, clearing the previous 2022 closing low set on June 16, for its lowest close since December 14, 2020.
Read: The stock market may be on the verge of a "tradable" recovery, according to a key technical indicator
According to Dow Jones Market Data going back to 1950, the average and median returns for the Dow were negative in the week following a bear market entry, while the average and median returns for periods up to a year later were positive.
The table below provides a more detailed look at performance back to 1900: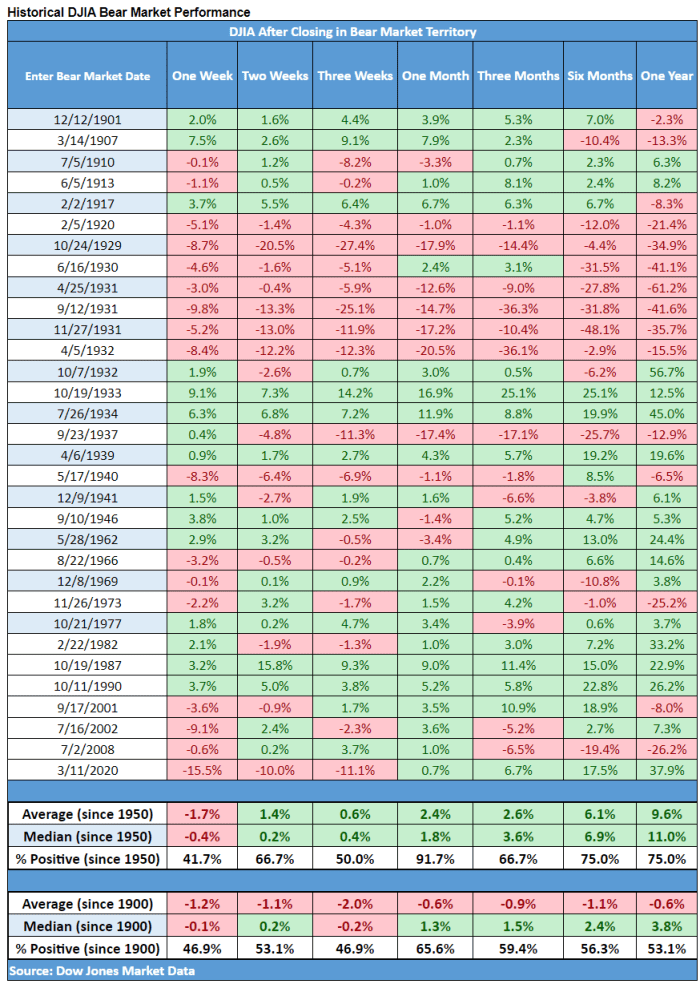 Also see: Rising US dollar creates an 'unsustainable situation' for the stock market, warns Morgan Stanley's Wilson