A three-legged dog battling cancer carried out a daring water rescue over the Easter weekend, rescuing a smaller, orphaned mammal from potentially drowning.
Gus, a 6-year-old golden retriever and poodle mix, spent Easter Sunday accompanying Ella and Lucy Hammerstrand, his owner's grandchildren, to a family reunion along St. The St. Croix River in St. Mary's Point, Minnesota, according to Fox 9 News. At one point, the dog, which had only three legs left due to ongoing cancer treatments, jumped into the icy water and swam out about 50 feet, leaving Hammerstrands confused.
Gus managed the swim well and eventually came out of the river with a surprising find in tow.
"First time swimming with three legs and he comes out of the water with an otter in his mouth!" That's what Ella Hammerstrand told Fox 9.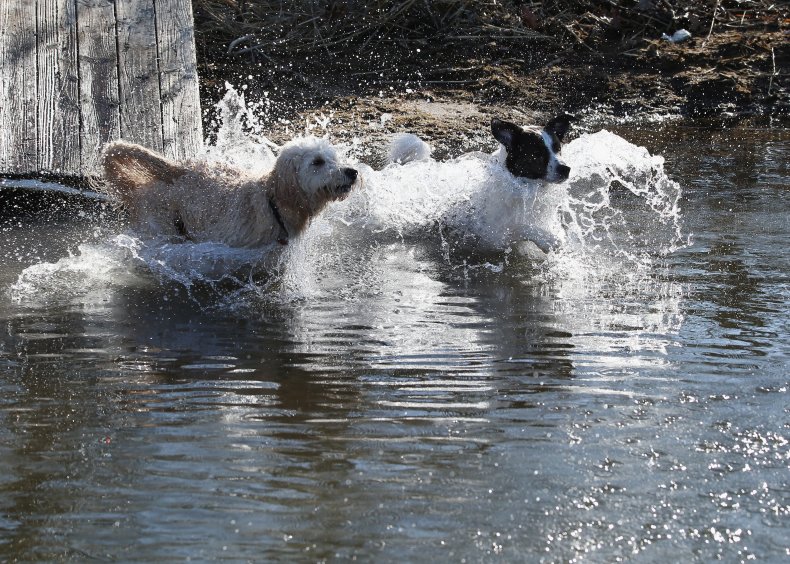 The family began a search for the mother of the otter cub.
"I held him for a while, they tried to find his mother, but we could not," Lucy Hammerstrand said.
Unable to find its family, they packed the otter and quickly brought it to the nearby Wildlife Rehabilitation Center in Roseville.
The staff at the center could see that the otter puppy was about 1 week old, too young to be able to swim on its own. Otters typically stay with their mothers for at least a year.
"The otter is far too young to be in the water – it should still be in its mother's cave," the Wildlife Rehabilitation Center wrote on Facebook on Wednesday. "With no idea where the cave is, how far the little guy traveled, the otter has been admitted for rehab. We were quite worried for the first 36 hours – he was cold to the touch at admission and we did not know if he" d absorbed water, which could result in pneumonia. The otter turned the corner the other day and is doing well. "
The Odder puppy has since been sent to an unspecified rehabilitation center with the right pools and other facilities needed to care for them.
"I think he is [Gus] knew the otter was in pain and there was something wrong … he definitely got a lot of treats afterwards, "said Ella Hammerstrand.
Gus was diagnosed with cancer after a trip to the trimmer showed a tumor on one of his bones. In addition to rounds of chemotherapy at the University of Minnesota Veterinary Hospital, he also had one of his legs amputated in February. Despite these problems, his family told Fox 9 that he has not slowed down.
"He's just doing great on three legs," said Cleo Young, his owner. "He runs as fast as he ever did."