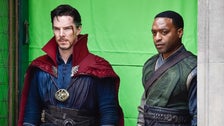 The ban on the long-awaited sequel to Marvel's thought-provoking blockbuster starring Benedict Cumberbatch is said to be related to LGBTQ representation, as the film introduces the character America Chavez (played by Xochitl Gomez), who is gay in the comics she first appeared in. , according to THR.
"Doctor Strange in the Multiverse of Madness" was to be released across the Gulf on May 5th. However, advance tickets can no longer be purchased in Saudi Arabia, Kuwait or Qatar.
Advance tickets still appear to be available in the United Arab Emirates, a hint that the film may still be released there.
IMAX Egypt also announced a ban on cinema premieres of the film, which is scheduled to premiere across most of the world on May 6th.