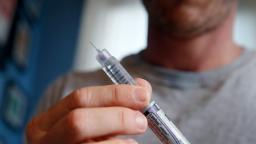 CNN
—

California Gov. Gavin Newsom announced Saturday that the state will cut insulin costs by 90% and that it will begin manufacturing naloxone, a nasal spray used to reverse opioid overdoses.
The lower insulin costs stem from a partnership between CalRx, a California Department of Health Care Services program, and non-profit drugmaker Civica Rx, according to a news release from the governor's office. A 10-milliliter vial of insulin will be available for no more than $30, pending approval by the US Food and Drug Administration, the release said.
Although insulin was discovered more than a century ago and costs little to make, brand-name insulin often sells for about $300 per vial. vial, CNN has reported. The high cost has forced many people with diabetes to ration or skip doses of medications that help the body control blood sugar.
Civica Rx is a non-profit generic drug manufacturer focused on manufacturing drugs that are in short supply or may experience price increases. The organization is backed by hospitals, insurance companies and philanthropies.
"People should not be forced to go into debt to get life-saving prescriptions," Newsom said in the release. "Through CalRx, Californians will have access to some of the cheapest insulin available, helping them save thousands each year."
Insulin has become a poster child for the skyrocketing costs of many prescription drugs. Newsom's announcement follows several insulin makers that have announced their own insulin price caps, such as Sanofi, Eli Lilly and Novo Nordisk.
In addition to the new insulin contract, Newsom also announced that California would seek to manufacture its own naloxone, also known by the brand name Narcan. The drug can reverse the effects of opioids like fentanyl and heroin and help restore a person's normal breathing.
The decision is part of the Golden State's "Master Plan for Tackling the Fentanyl and Opioid Crisis," according to a news release from Newsom's office.
The plan "is a multi-pronged approach," which includes a "crackdown" on transnational criminal organizations that traffic drugs through the California National Guard, while supporting several opioid awareness programs and increasing the availability of fentanyl test strips and naloxone.
Saturday's "announcement expands on Governor Newsom's efforts already underway to get overdose medication to all middle and high schools across the state," the statement said. Several school districts in California are already stocking up on the drug after multiple overdoses among high school students.
California is currently looking for a California-based naloxone production facility, according to the release.