Ethrough the haze of sparkling heat and thick Delhi dust, the mural is impossible to miss. Pink, blue, green, and yellow colors emerge from the wall, forming a utopian scene of equality, and sprayed across the center is a slogan designed to challenge India's male-dominated society. "The future is femme," it declares.
The artwork stands at the entrance to this year's India Art Fair, the country's largest event showcasing Indian artists and galleries, which open in Delhi this weekend after a two-year hiatus due to the pandemic.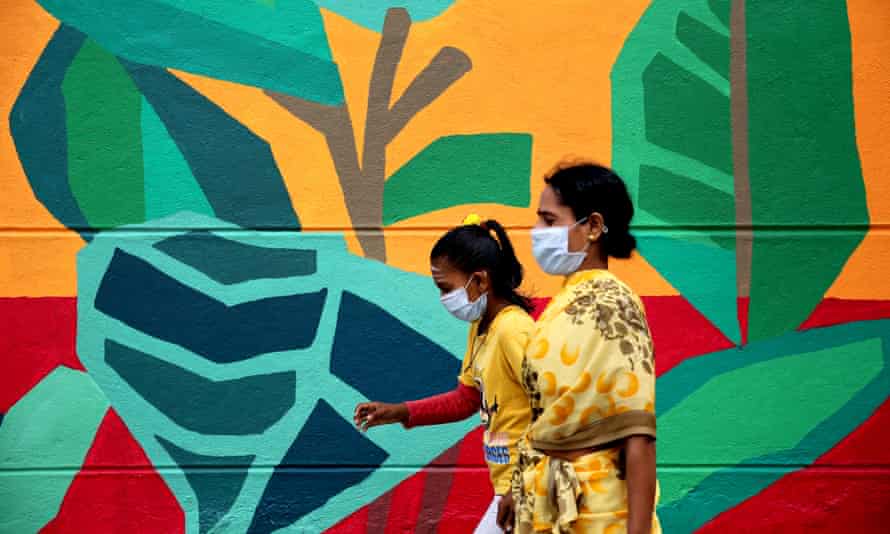 Its presence is significant. The Aravani art collective, the artists behind the work, have never exhibited in a larger gallery, nor do they see themselves as part of the money-driven art market, which exists mainly within the framework of white gallery walls.
Aravani is India's only trans art collective, comprising about 40 trans people – mostly women, but some men – from cities across the country who paint murals and works of art across public spaces. Metro stations, schools, universities, flyovers and parking lots have been transformed by their works of art depicting scenes of inclusion and gender fluidity. The murals have brought visibility and empowerment to the trans society, which is still largely avoided and stigmatized in India and often forced to live on the fringes of society.
"In this mural, we wanted to celebrate the intersectionality and inclusivity that has always existed in the trans society, but which is rarely visible in our society," said Poornima Sukumar, who founded the collective in 2016.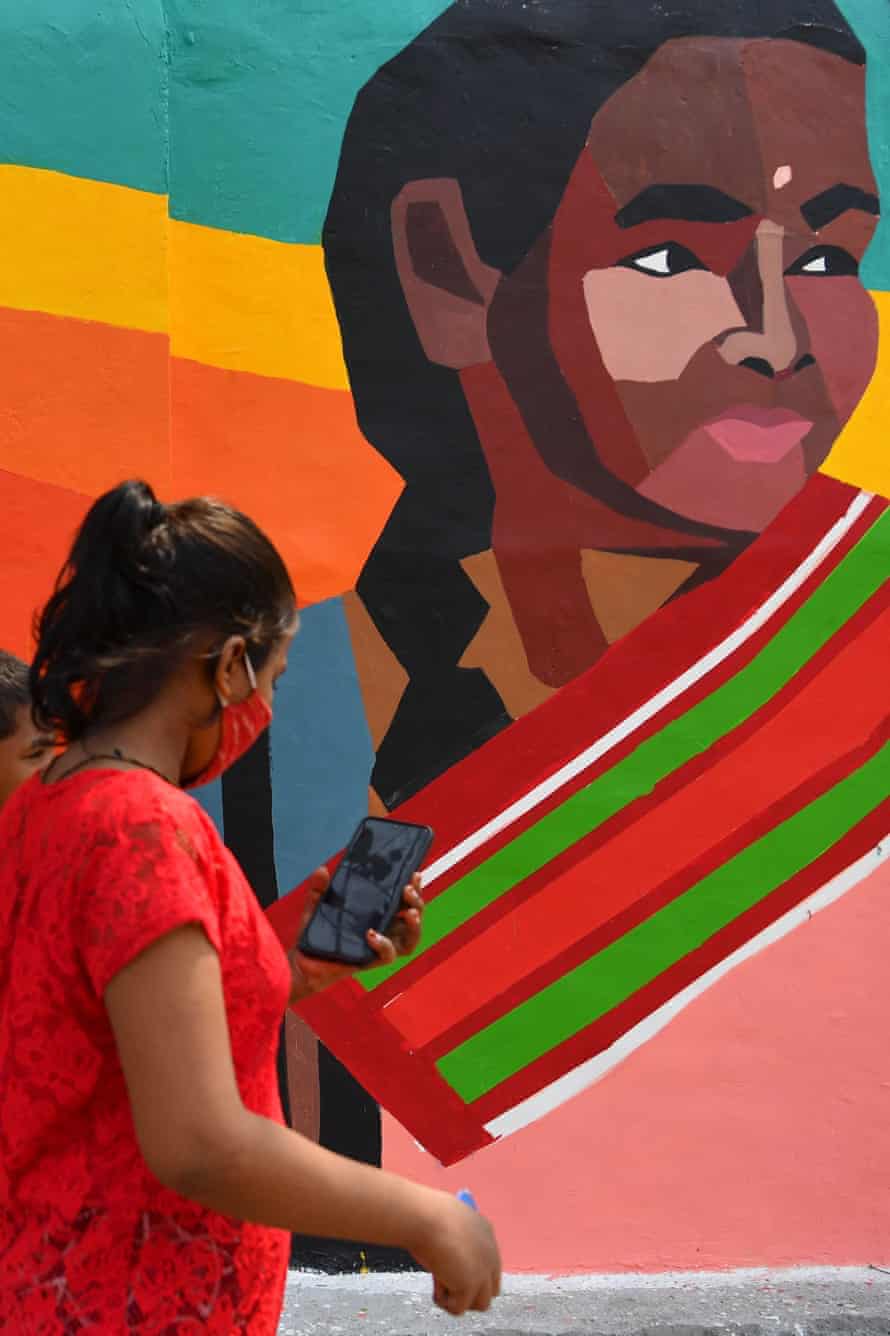 The decision to attend the art fair was not entirely pleasant, Sukumar said, but one that she hoped would help change perceptions and provide them with a platform to portray the multifaceted nature of their collective and trans community as a whole.
"It is important in our work to challenge the notion that everyone in the trans community is the same," she said. "Yes, many have fled home because of the pressure and have ended up begging or sex work because it was the only viable source of money, but within those experiences there are so many individual journeys."
For Mayuri Pujari, who has been part of the collective since 2017, the impact of her involvement has been profound. "Visibility is empowering," she said. "People see the trans community as professionals who make art, not just beg on the roads."
Among the new generation of young artists on display at this year's trade fair, which plays a key role in India's booming art market, many have used their works to push boundaries around sexuality, gender and queer stories. In a specially commissioned performance work, e.g. Gurjeet Singh, a famous young Sikh artist from a small village on the border with Pakistan, delicately questions and inverts traditional gender roles in families and in the home.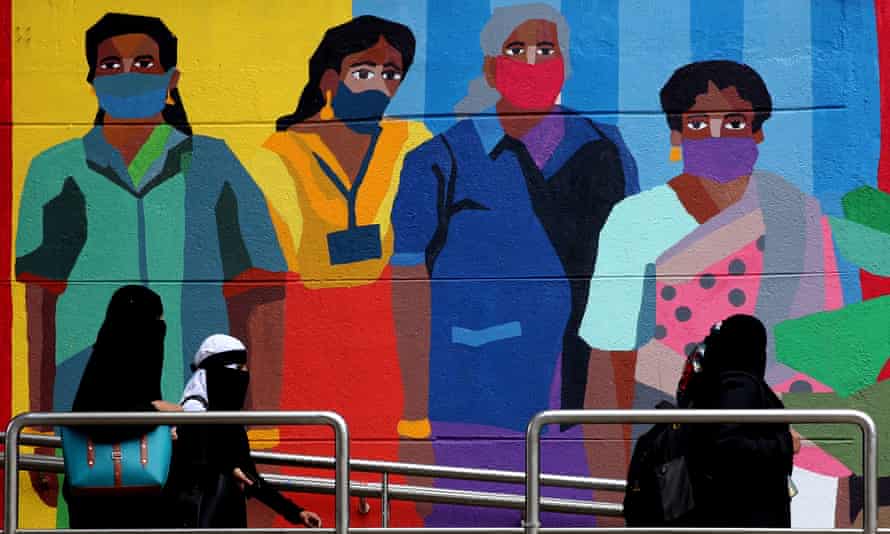 For Jaya Asokan, the fair's director, the "diversity and inclusion" that expanded India's art landscape, as well as the growing international interest in the Indian art market, meant that the fair took place at "a turning point for Indian and South Asian art."
"Many of our artists have had regional appeal for a while, but the narrative is changing and now they are in demand internationally," Asokan said.
Determined from a commercial side, things have never looked so good for the Indian modern art market. The pandemic gave an unexpected boost to sales and over the last two years; there have been at least three record sales of modern Indian art, including Amrita Sher-Gil's 1938 painting In the Ladies' Enclosure for $ 5.14 million, the second highest amount ever paid for a modern Indian work of art.
"I have not seen a market as strong as this since 2006, which lasted for a few years before the financial crisis," said Dinesh Vazirani, CEO of Indian art auction house Saffronart. He credited the boom to a wide range of factors, including lockdowns, giving people a greater desire for beautiful objects in their homes and growing income among people in the world of Indian technology and pharmaceutical products, where new businessmen and entrepreneurs want to invest in art as something. "aspiratory".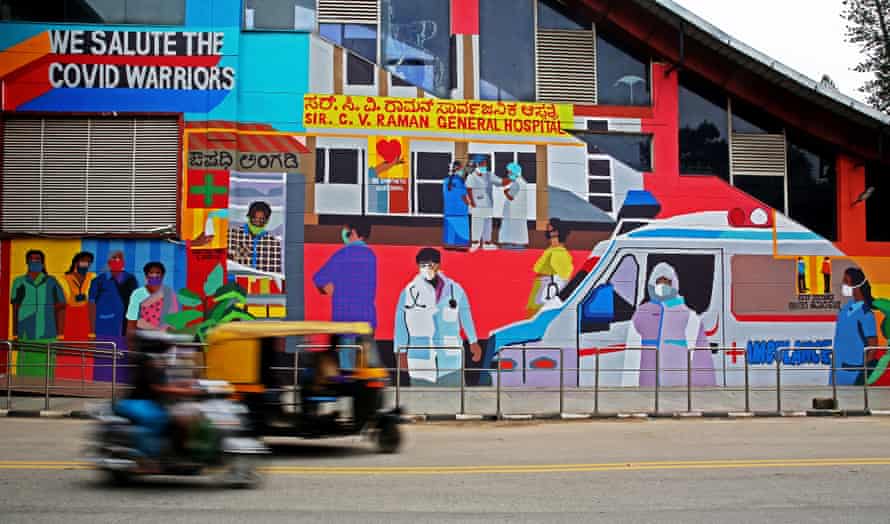 "We're seeing a whole new type of collector, young people in their 30s and 40s, enter the Indian market with a whole new mindset," Vazirani said. "Art now has a social status, and there is almost a social pressure to buy art and buy the best. So people who entered the market for $ 100,000 are now willing to go up to half a million. At every auction we have seen records broken, one after the other. "
Yet shifts in the market are not exclusively within the sphere of Indian modern and contemporary art. For the first time, this year's art fair showcases rare artefacts of Indian folk art, some dating back 100 years, and illustrates changing perceptions of older native art in the Indian market, which has always been focused on the modern and contemporary. Among the works in the exhibition are a number of mukhalingam sculptures in bronze, a representation of the Hindu god Shiva that has never been seen in public before.
"Our folk culture has been much more popular abroad for the last four decades than it has been in the Indian domestic market," said Amit Jain, who curated the folk art stands at this year's trade fair. "I'm used to this art and these artists being seen on the periphery, so it's great to see India's full history brought into this modern space. It's high time that museums in India look at art sideways and not split up. in modern and folk.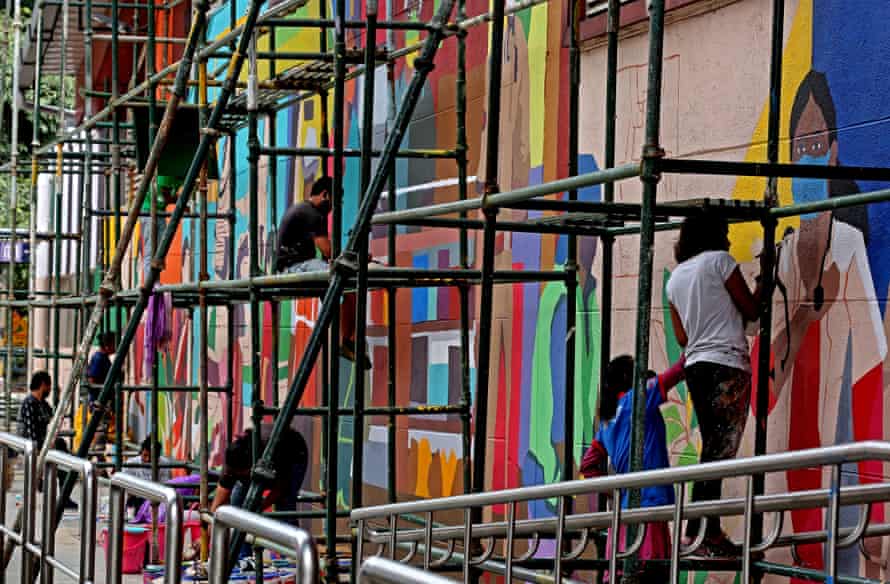 The fair will also address the darker side of the Indian art market, especially when it comes to antiques. Collectors and viewers have been invited for a tour of a museum of confiscated antiques in Purana Quila, an ancient fort in Delhi, where the exhibits will be the ones recently returned to India after being stolen and sold to wealthy collectors or shown in world famous galleries. The museum features artifacts recovered from high-profile looting now in prison, but also institutions such as the Metropolitan Museum of Art in New York.
"India is one of the biggest victims of the illegal trade in antiques, it is a black market as big as drugs and ammunition and we still have a lot of looting going on," said Anica Mann, curator of the Youth Program. collectors at the fair who have curated and will lead the tour. "Antiques are a very important cog in the entire list of South Asian art, so it's time we talked about ethical collection."